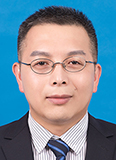 Assoc Prof. Wei Jiang
Huazhong University of Science & Technology, China
Brief introduction:

Born in 1979, he received his B.S. degree and Ph.D Degree from Huazhong University of Science and Technology in 2002 and 2008, respectively. After finishing his post-doctoral research in Mechanics in HUST, he was employed by the State Key Laboratory of Digital Manufacturing Equipment and Technology in 2012 and was appointed the associate professor in 2015.
He is the Member of IEEE and CJME. His research interests include mechanical system dynamics, mechanical vibration and vibration control, gas lubrication theory, etc. He is principal investigator for more than 20 projects sponsored by NSFC, National Key Research and Development Project, etc. He has published more than 30 SCI/EI papers, and is authorized more 30 invention patents. His research achievements in ultra-stable suppression of complex vibration with near-zero stiffness and wide frequency domain have won the 2nd prize of the State Technological Invention Award (No. 4, 2019), and his research achievements in dynamic design of high-end equipment have won the 2nd prize of the National Scientific and Technological Progress Award (No. 5, 2016).
Presentation Topic:
High-performance vibration isolation and its application
Vibration isolation technology is important to guarantee the performance of the ultra-precision manufacturing and measurement equipment. High-performance vibration isolation which can isolate the environmental vibration by more than two orders of magnitude over wide frequency domain is urgently required in many applications. This kind of vibration isolation device must have the following properties: (i) Broad bandwidth of vibration isolation, which means the natural frequency of the vibration isolation device should be as close as possible to 0 Hz; (ii) High attenuation in vibration amplitude, which means the vibration amplitude in the working frequency domain should be attenuated by more than 90% and even 99%; (iii) High stability in position/posture maintain, which means vibration isolation and posture control must be coordinated. In this report, arrayed-combination of repulsive-attractive magnetic negative stiffness technology to achieve extremely low resonant frequency for vibration isolation, passive and active frequency-dependent damping, and the vibration suppression-positioning cooperative control technologies are introduced. Some representative applications are also illustrated.